Sharing my favorite sequin dresses at all price points.
I can only tolerate so much "loungewear" before I desperately need a day to dress up. When I look good, I feel good and sometimes that's just hard to muster in sweats. With the holidays fast approaching, this is the time to shake up the monotony of sweats and slippers, and don those head to toe velvets, furs, and sequins!
Each year I search and search for the perfect sequin dress. Not for any specific event as we aren't into parties, and are even less interested in going out late at night. No, I just happen to really like dressing up – even if it's just to celebrate the holidays at home with my family. I'm not quite the 1950s housewife vacuuming in crinoline and heels, but I also don't believe in saving precious items for that "perfect" occasion…the one that may never come. Despite the 2020 dress code shifting drastically towards the comfy/cozy end of the spectrum I will still buy those sequins, and still wear them to saunter around my house, my kitchen, and my Christmas tree, for nobody but myself and my family! I encourage you to do the same my friends, because this year has certainly presented a few hurdles, and going all out for Christmas is, I believe, just what we all need to do.
I stumbled upon this fabulous glittery frock by chance while searching for something else. I couldn't believe my eyes, as 1) it looks just like a designer dress going for $600, and 2) this one costs a tenth of that at $60! I was hesitant to get too excited though, as I knew for that price there had to be something wrong with it. Well, there isn't! It arrived in the mail three days after I placed my order and I immediately threw it on and snapped these photos with hubby. Needless to say, it was love at first try-on!
It's fully lined, and has one of my favorite details: balloon sleeves! I picked the "champagne" color, which has beautiful warm beige material, drenched in silvery champagne sequins, with a velour sash that matches the fabric; they also have a silver version of this dress. Another feature I really like is the crew neckline. I really cannot wear wrap, or v-neck styles successfully, plus as I intend to wear this dress for any winter festivity, I'll need all the coverage I can get. In a word, simply wonderful. It's exactly what I was hoping for, only a fraction of the cost I thought I'd be paying.
I styled this in a glam monochrome palette with my nude leather barely there heels, and gold starburst earrings from past years. For going out to an early dinner, I'll throw my white wool swing coat over top and if it's really cold out, swap the heels for boots and tights.
Keep scrolling below to shop all of my sparkly picks, including this one!
This post contains affiliate links, which means that when you make a purchase through one of my links, the retailer pays me a small commission as a 'thank you'. This does not change the price you pay. See the full disclosure here.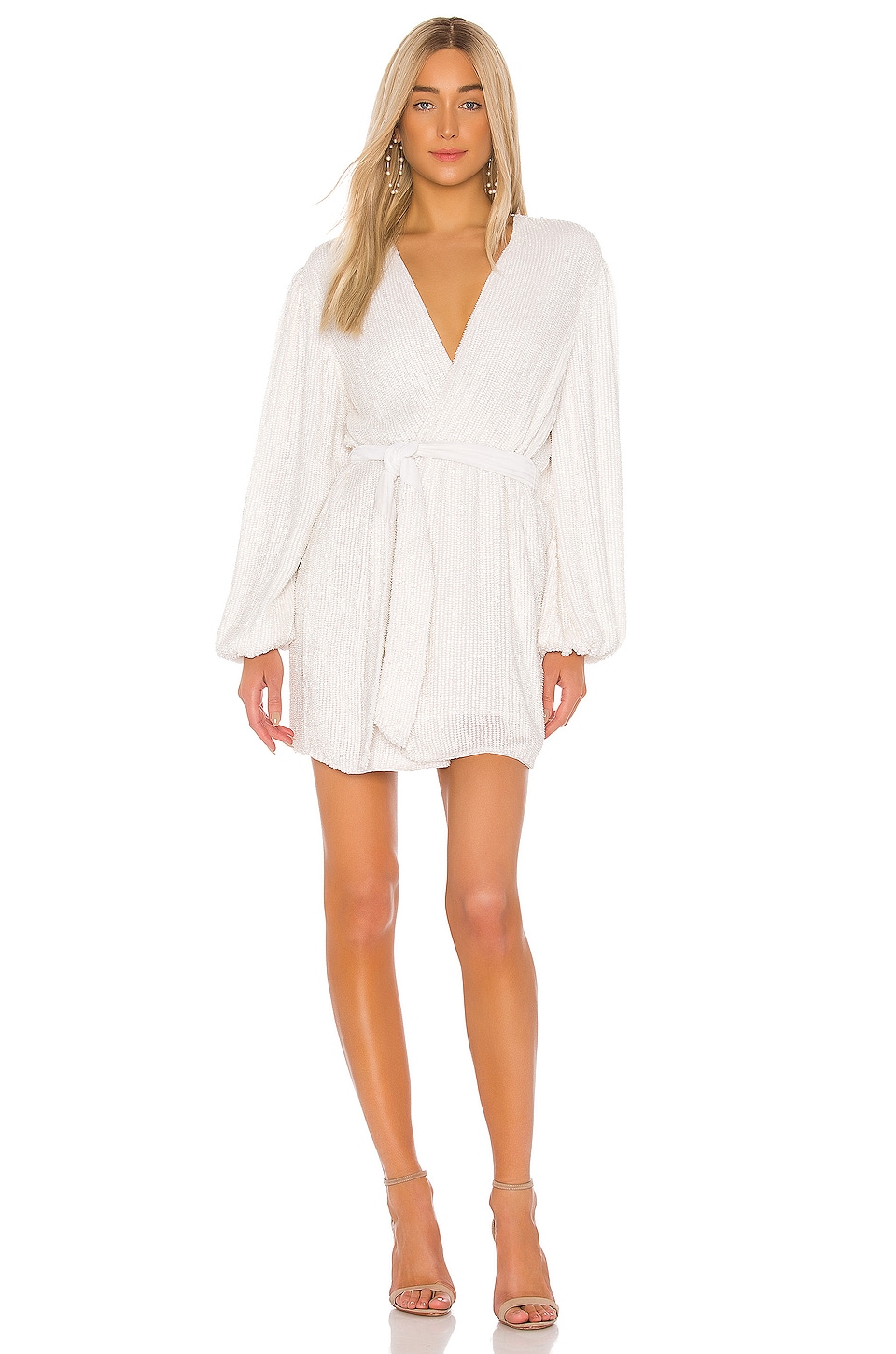 Too many gorgeous details to count!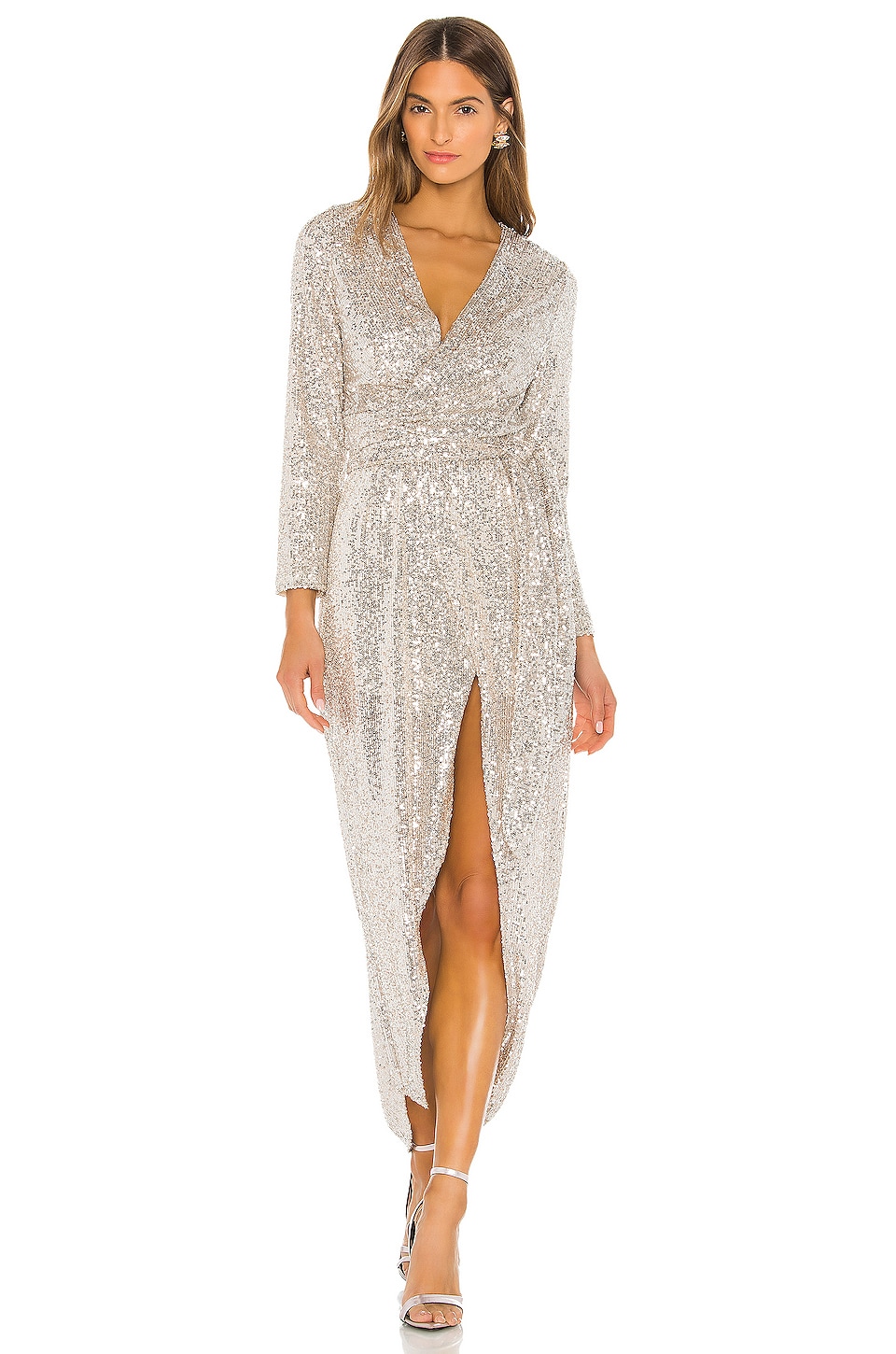 Longer length glittering wrap.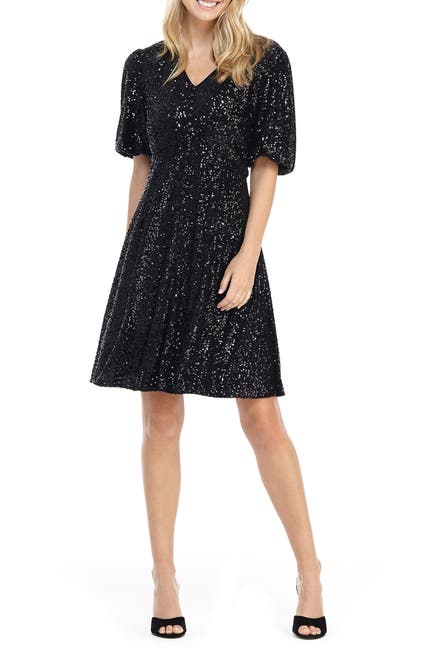 Midi length is definitely my favorite – love this warm copper color!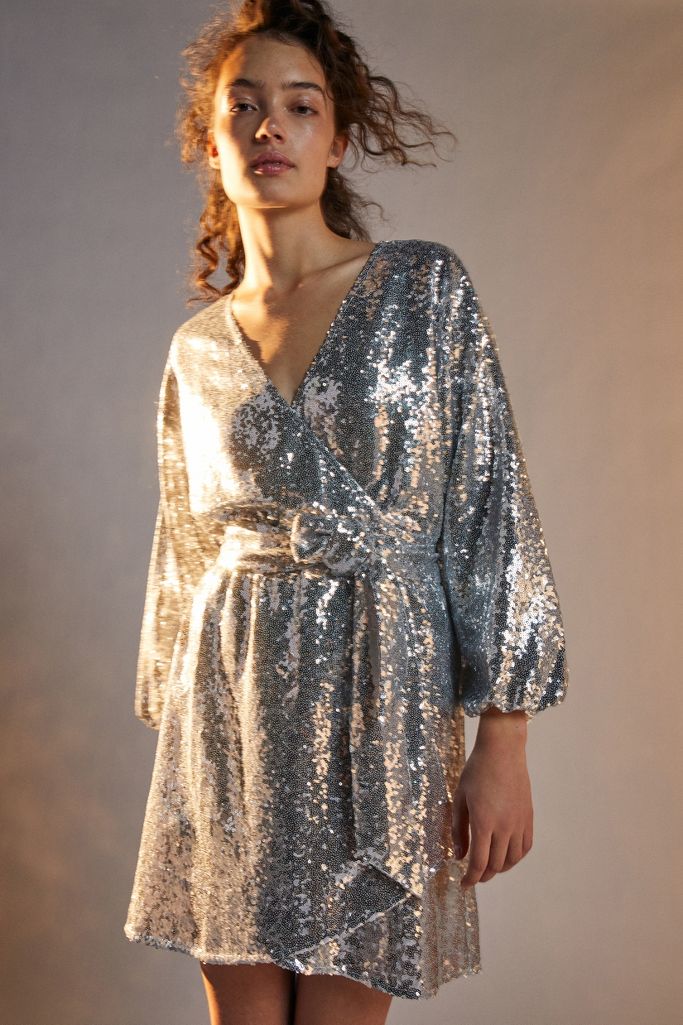 Comes in 4 colors and is size inclusive!
Swan around in this ethereal gown this Christmas. Also, on sale!
Ok, this dress is EVERYTHING. Bows, scallops, soft color palette, POCKETS. On sale for half off it's still an investment, but WOW! BRB, I'm going to dream.
Back to reality with this under $50 frock!
I hope this helped get you a little more in the mood for Christmas, joyful gatherings, and time with loved ones! Happy shopping!
xo, Mia